Thank You for a Great Season!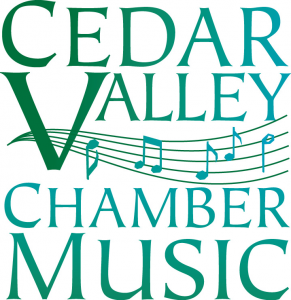 Dear Friends and Patrons,
From performers to audience members, there was a joyous feeling and wonderful energy this season as we returned to the concert stage. I would sincerely like to thank Steve Carignan, Chris Kremer, and the entire GBPAC staff for hosting our series this summer. We would not have been able to go back to in-person performance without the use of their facilities.
I would also like to thank the Community Foundation of Northeast Iowa for their continued support. They continue to understand the vital role the arts serve in our community and their financial support for our festival and particularly our outreach, has made all the difference in both supporting existing programs and creating new ones.
The CVCMF Board of Directors also deserves a large shout out. They have been a wonderful sounding board for my ideas and have been willing to take some risks during an uneasy time. None of this would be possible without them.
Lastly, I want to thank you for you, our patron. We had enthusiastic audiences at each concert and those who were not able to join us in person were able to watch our live-stream on A440.live.
We will continue to generate content on our A440.live site throughout the year and we also have plans to work with several chamber music ensembles passing through the Cedar Valley during the 21-22 academic year. Please stay tuned by checking back regularly and following us on our Facebook page.
Sincerely,
Hunter Capoccioni
Artistic Director